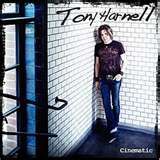 Tony Harnell (born September 18, 1962, in San Diego, California) is an American hard rock singer, best known for his work with the Norwegian based hard rock band TNT. As a vocalist, songwriter and producer, Tony has led a career as a recording and touring artist since the mid 80's.
Harnell has done several tracks for the Sonic the Hedgehog series. In 1998, he performed It Doesn't Matter, the theme of Sonic the Hedgehog in Sonic Adventure. In 2001, he returned to do a rewritten version the song to be Sonic's new theme in Sonic Adventure 2. For the same game, he and fellow singer Ted Poley worked together on Escape from the City, the background music for the first stage.
In 2004, Harnell and Poley collaborated again on the song We Can, the theme of Team Sonic in the game Sonic Heroes.