Contents
Featured article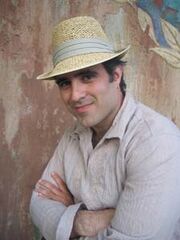 Samuel Vincent (born Samuel Vincent Khouth) is a Canadian voice actor who works with the Ocean Group based in Vancouver, British Columbia, Canada. He was born in North Vancouver, British Columbia. He is best known for playing Double-D in Ed, Edd n Eddy, but was also Sonic the Hedgehog's singing voice in Sonic Underground.

For more information, click here!
What's new
6/6/13 - It seems that Wikia has changed its software to replace playable YouTube videos with wiki-uploaded versions if they exist on the wiki. (The software is set to automatically change the video whenever a page is edited by a user and to include it in the edit diff, which may cause confusion since the change will look like it was done by the user.) The wiki-uploaded versions play in a pop-up window that covers the article in the Wikia skin and in a new tab in the Monobook skin, and preventing users from listening and browsing at the same time. Because the playable YouTube videos won't work if an uploaded version exists, the uploaded files may have to be deleted in order for the videos to remain playable.
12/2/12 - Sonic Sound Test gains a new admin, Lisa URAQT! Congratulations!
4/19/11 - MISSION ACCOMPLISHED! You can now listen to up to :59 seconds of a song on Sonic Sound Test!
4/19/11 - Sonic Sound Test takes its first shot at a .ogg file! Cross your fingers!
7/10/10 - The Wiki upgrades its makeover! Now, doesn't this look much better than before? Thanks to Supermorff.
6/14/10 - Sonic Sound Test celebrates its very first birthday!! Thanks to all our users who helped us reach our goal in the past year, and special thanks to our administrative staff!
3/11/10 - Sonic Sound Test receives a brand-new look, thanks to our newest administrator, Noname the hero!
11/5/09 - Sonic Sound Test gains a new admin, Ratboy.uk! Congratulations!
For more past announcements, go here.
Monthly Polls
Contribute to this wiki
To write a new article, just enter the article title in the box below.
<createbox> width=24 break=no buttonlabel=Create new article </createbox>
Featured Music Video
"Reach For The Stars", vocals by Jean Paul Makhlouf of Cash Cash.
Song Of The Month
"Open Your Heart", by Crush 40